Are you ready for some thrilling football action? Then get your boots ready for the upcoming scouting tournament hosted by AsanSka Football Club in collaboration with 10 Management.
Date: 23rd to 25th March, 2023
Time: 8:00am each day
Venue: Adjiringanor Astroturf (Accra-Ghana)
Scouting tournaments are an excellent opportunity for talented young footballers to showcase their skills and potentially secure a spot on a professional team. With AsanSka FC and 10 Management hosting the event, participants can be sure that they will be in front of top scouts and coaches, who will be on the lookout for the next generation of football stars.
For aspiring footballers, this is an opportunity that should not be missed. Not only will they have a chance to play against some of the best young players in the country, but they will also have the chance to impress top-level scouts and coaches who could help launch their professional careers.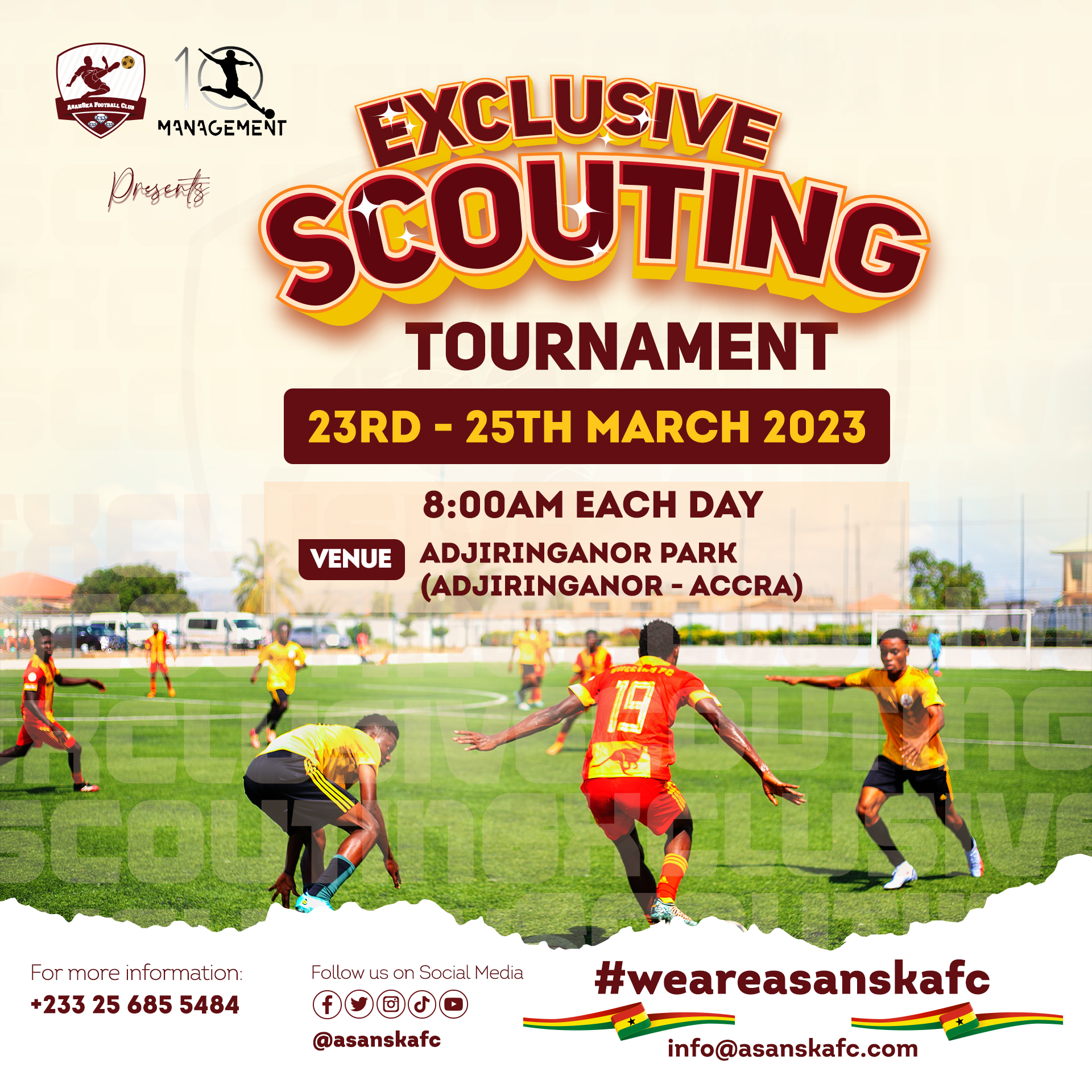 But it's not just the players who stand to benefit from the event. AsanSka FC and 10 Management are committed to developing young football talent and creating a pipeline for the next generation of football stars. By hosting this scouting tournament, they are not only providing a platform for young players to showcase their skills but also identifying and nurturing the next wave of football talent.
So, mark your calendars for March 23rd to 25th, 2023, and make sure your boots are ready for action. Adjiringanor Astroturf Park, Accra-Ghana, will be the place to be for anyone who loves football and wants to witness the birth of the next generation of football stars.
Other participating clubs include Shooting Stars, Rising Stars of Africa, Golden Kicks, Progen, Cheetah FC, Asekem, TSU FC, Inter Millas, Krowor, Sporting Club Accra, Inter Allias, Validus FC, Prestige FC, New Life, Nima City FC, Panthers FC, Liberty FC, Global Links FC, Cedars Stars, First Klass FC, Koforidua FC, and Still Believe FC.
Official media partners: Media 7 and AFA Sports